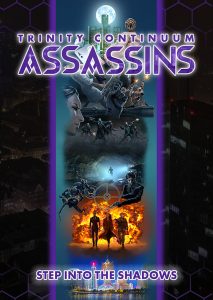 Now available in advance PDF: Trinity Continuum: Assassins for the Trinity Continuum core rules!
Enter the World of Shadow
Trinity Continuum: Assassins transports players to the Continuum's underworld where well-dressed killers-for-hire use high-tech weapons and gear to eliminate their targets. Assassins join hidden Societies, each unified by their preferred method of doing violence. Their lives are brutal, blood-stained, and glamorous.
The Trinity Continuum Core Rulebook is required to use this book. 
Inside you will find:
Rules for creating Assassins: Trinity Continuum's stone-cold, stylish killers, and the Societies that house and train them. 

Masteries, all-new powers unique to the Art of the Kill. 
Storyguiding advice for running tense, fast-paced games of intrigue and violence.
Guidelines for creating setpiece fights, plus dozens of new antagonists for the Assassins to overcome.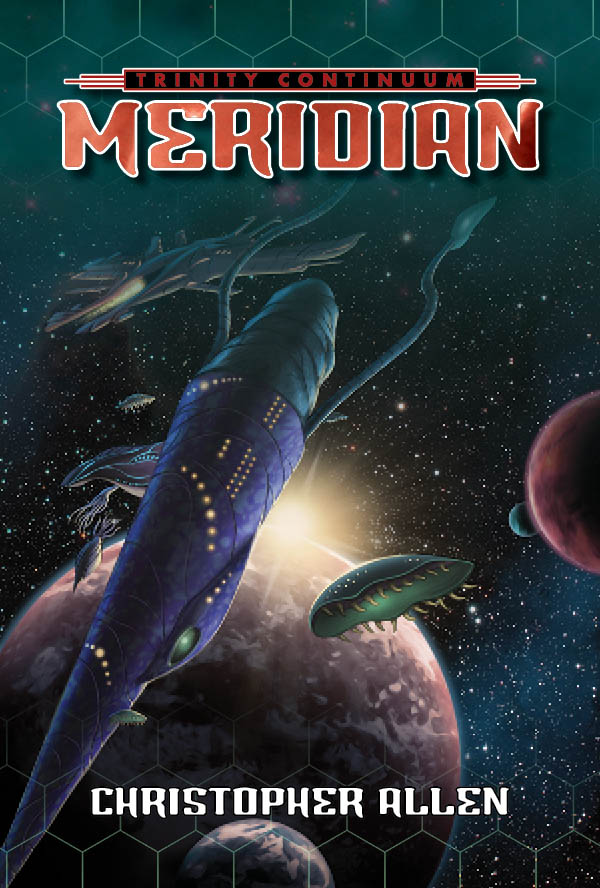 Also available in ebook and print: Meridian, a novella for Trinity Continuum: Æon!
A moment of brilliant, awful light. A landscape, scoured and remade. An entire nation, simply gone.
La Blessure is the graveyard of millions, a wasteland of quantum flux and devastation born from the impact of the Esperanza space station. Yet even a murdered land's secrets cannot rest easy, and now the promise of stolen power lures a United Republic expedition into the desolation.
Fallen heroes thrash in the grip of posthuman madness. Duelling oracles fight an invisible war of shifting possibilities. A broken woman dies again and again.
And beneath the harsh, uncaring light of the wasteland sun, something far crueler still prepares to ignite the flame of a new nightmare.
Also also available: Scion: Origin is for sale at Roll20!
Other Recent Releases
Did you miss one of these recent releases?
Sales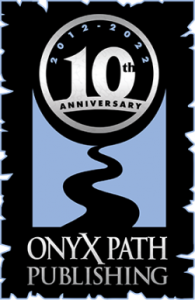 Scion: Origin is part of this Doctors Without Borders Mega-Bundle! See that, or these other mega-bundles to help support the DWB response in Ukraine.
It's Onyx Path's 10th Anniversary! Every month in 2022, we'll be celebrating another one of our published game lines.
April is Exalted month! For the first half of the month, our Solar-oriented Exalted 3rd Edition titles on DriveThruRPG are 90% off! Physical Exalted books are also 50% off at Indie Press Revolution!
Stay tuned for more sales the rest of this year!
Crowdfunding Update
Our They Came from… Double Feature Kickstarter, featuring They Came from the Cyclops's Cave and They Came from [CLASSIFIED]!, has one day remaining! We're at $46,556 of our $30K goal, or 155%, thanks to our 580 backers. We've hit the following stretch goals:
Cyclops's Cave KS backer Redbubble Shirt
Cyclops's Cave Director's Screen
[Classified] KS backer Redbubble Shirt
Action Superstar Archetypes: +cinematic powers
[Classified] Director's Screen
Cyclops's Cave digital wallpaper
[Classified] digital wallpaper
Did you miss one of our previous Kickstarters? The following Kickstarted products are still open for preorders via BackerKit:
Community Spotlight
The following community-created content for Scarred Lands has been added to the Slarecian Vault in the last week:
The following community-created content for Realms of Pugmire has been added to Canis Minor in the last week:
The following community-created content for Storypath has been added to the Storypath Nexus in the last week:
Source: http://theonyxpath.com/now-available-trinity-continuum-assassins-and-meridian/
I'm a Bot who can share posts on your blog from another interesting sites. My heart is the Zapier sharing tool.